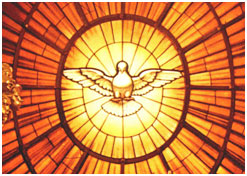 Novena to the Holy Spirit for the Seven Gifts
(to be prayed beginning May 25)
The novena in honor of the Holy Spirit is the oldest of all novenas since it was first made at the direction of Our Lord Himself when He sent His apostles back to Jerusalem to await the coming of the Holy Spirit on the first Pentecost. Addressed to the Third Person of the Blessed Trinity, it is a powerful plea for the light and strength and love so sorely needed by every Christian.
ACT OF CONSECRATION TO THE HOLY SPIRIT AND PRAYER FOR THE SEVEN GIFTS
On my knees before the great multitude of heavenly witnesses, I offer myself, soul and body to You, Eternal Spirit of God. I adore the brightness of Your purity, the unerring keenness of Your justice, and the might of Your love. You are the Strength and Light of my soul. In You I live and move and am. I desire never to grieve You by unfaithfulness to grace and I pray with all my heart to be kept from the smallest sin against You. Mercifully guard my every thought and grant that I may always watch for Your light, and listen to Your voice, and follow Your gracious inspirations. I cling to You and give myself to You and ask You, by Your compassion to watch over me in my weakness. Holding the pierced Feet of Jesus and looking at His Five Wounds, and trusting in His Precious Blood and adoring His opened Side and stricken Heart, I implore You, Adorable Spirit, Helper of my infirmity, to keep me in Your grace that I may never sin against You. Give me grace, O Holy Spirit, Spirit of the Father and the Son to say to You always and everywhere, "Speak Lord for Your servant is listening." Amen.
O Lord Jesus Christ Who, before ascending into heaven did promise to send the Holy Spirit to finish Your work in the souls of Your Apostles and Disciples, deign to grant the same Holy Spirit to me that He may perfect in my soul, the work of Your grace and Your love. Grant me the Spirit of Wisdom that I may despise the perishable things of this world and aspire only after the things that are eternal, the Spirit of Understanding to enlighten my mind with the light of Your divine truth, the Spirit of Counsel that I may ever choose the surest way of pleasing God and gaining heaven, the Spirit of Fortitude that I may bear my cross with You and that I may overcome with courage all the obstacles that oppose my salvation, the Spirit of Knowledge that I may know God and know myself and grow perfect in the science of the Saints, the Spirit of Piety that I may find the service of God sweet and amiable, and the Spirit of Fear that I may be filled with a loving reverence towards God and may dread in any way to displease Him. Mark me, dear Lord, with the sign of Your true disciples and animate me in all things with Your Spirit. Amen.

Catalogue of the Vatican International Exhibition
With an extensive assortment of photographs and historical descriptions, the exhibition presents some of the principal Eucharistic Miracles that have taken place over the centuries and throughout the world. Most Eucharistic miracles involve incidences in which the Host has "turned into human flesh and blood." Certainly, the Church teaches (and we believe) that the consecrated Host is the Body, Blood, Soul, and Divinity of Jesus Christ under the appearances of bread and wine. Through Eucharistic miracles, Christ manifests His Presence in a more tangible and visible way. Interestingly, many Eucharistic miracles have occurred during times of weakened Faith. For example, a number of Eucharist miracles have taken place as a result of someone, often the priest himself, doubting the Real Presence of Christ in the Eucharist. Included in the exhibit are descriptions of many of the most famous miracles, including those of Lanciano, Orvieto and Siena. Each of them has received full approval by the Church. By means of the exhibit, one can "virtually visit" the places where the miracles occurred.
It is important for us to remember that while Eucharistic Miracles can help us more fully understand and live our faith (with Christ the Eucharist as its source and summit), these Miracles are only useful as long as they are closely focused on Jesus Christ. They cannot become autonomous. Miracles can strengthen the faith of believers and even non-believers, but they are valuable only if they direct us to the Eucharist instituted by Christ and present at each celebration of the Holy Sacrifice of the Mass. They must serve the faith. They must not and cannot add anything to the one and only, definitive gift of Christ in the Blessed Sacrament. They are a humble reminder of the Real Presence and can impart a more fruitful and deeper knowledge of it. Join us and see the different ways that Christ has manifested His Real Presence to increase our faith!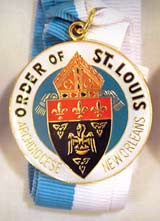 Archbishop Aymond will present the Order of St. Louis Medallion to 256 members of the laity in ceremonies this Sunday at 3:00 PM in the St. Joseph Church, 1802 Tulane Ave. Our parishioners, Patrick Guise and Cindy Gainsburgh, will be among those honored.

Every Saturday at 11:00 a.m. we pray the Rosary at the Woman's Health Care Center on the corner of General Pershing and Magnolia near Oschner Baptist Hospital. This facility is one of at least three abortion centers in the New Orleans area and just outside of our parish boundaries. Please join us!
May 2017
That Christians in Africa, in imitation of the Merciful Jesus, may give prophetic witness to reconciliation, justice, and peace.
Please pray for the intentions of the Holy Father!
Thanks to our volunteers who greeted pilgrims taking part in the Nine Church Walk on Good Friday. The pilgrims started arriving almost at the completion of our Holy Thursday vigil at 6:00am, and they continued even into the afternoon and evening. We had our handy clicker to count numbers, so we know that at least 3,000 people came to visit St. Stephen's on Friday. I sat in the confessional from 9:00am – noon, and I was rarely alone.  The line was continuous for the entire time. Anybody who doubts the vitality of the Catholic Church in New Orleans need only to have seen the busloads of high school groups, CYO groups, and large families taking part in the walk to have their doubts removed. I was so happy to greet many pilgrims from other parishes where I have served. It was great to see old friends, but it made me so proud and happy to be able to welcome them to St. Stephen's. I heard nothing but good reports from the crowds at St. Henry Church and Our Lady of Good Counsel. I wish I had been able to make it to St. Henry's and Our Lady of Good Counsel, but between the Holy Thursday vigil, confessions, the 3:00pm Good Friday service, I didn't have much time to venture out!  Thanks to everyone who came to pray, and those who greeted them!
It was a common custom in many lands of the ancient Middle East to cover in some way the path of someone thought worthy of the highest honor. In 2 Kings 9:13 Jehu, son of Jehoshaphat, was treated to this honor. Each of the four Gospels report that the people of Jerusalem gave Jesus the honor of walking on a covered path. However, in the synoptic Gospels (Matthew, Mark and Luke) we hear that the people lay their garments and cut rushes to place on the street. Only the Gospel of John specifically mentions palms.
So what is the significance of the palm? The palm branch was a symbol of triumph and of victory in Jewish tradition, and is treated as such in other parts of the Bible (e.g. Leviticus 23:40 and Revelation 7:9). Based on this significance, the scene of the crowd greeting Jesus by waving palms and carpeting his path has given the Christian celebration its name. It shows the freedom desired by the Jews, and their desperation to have political freedom. In fact, they were welcoming their "Messiah," whom they expected to be a great king who would free them from the oppression of foreign rulers. The entry of Jesus into Jerusalem included chants from Psalm 118 and 148:1. The Hebrew hoshiiah na' (I beseech you, save now) was changed in Greek to hosanna, which became a famous Christian term, and had a huge Messianic significance.
The palm is a symbol of victory for us as Christians. Since we recognize that Jesus is the Messiah (a word which we normally use in the Greek translation – "Christ"), we recognize that He has already achieved a victory for us. But the victory is not over earthly rulers. It's much bigger. It's victory over Satan. It's a victory over sin and death. It's a victory that gives us Eternal Life.
An old New Orleans devotion will take place on Good Friday next week. The "nine church walk" calls for pilgrims to walk from church to church, stopping briefly in each to pray and meditate on the passion of Christ.  Many pilgrims will begin the nine church walk at St. Stephen Church as early as 7:00 am.  They will arrive in family groups, parish communities and CYO groups.
In other parts of the world, particularly in cities like Rome where churches are densely congregated, Catholics visit nine churches on Holy Thursday, rather than Good Friday.  Traditionally, nine signifies the nine days of a novena.  A wonderful novena to begin on Good Friday is the Novena for Divine Mercy, which continues until Divine Mercy Sunday.
This year St. Stephen Church and St. Henry Church will be open from 7:00 am until 1:00 pm on Good Friday.  Unfortunately, work is being done in Our Lady of Good Counsel Church, and it is not possible for visitors to enter. If you can help greet pilgrims and distribute water at either St. Stephen, St. Henry or Our Lady of Good Counsel churches, please contact the parish office or sign-up in the back of church.!
Our spiritual work of mercy-Prayer for those struggling with Infertility:
Mother of Christ, you were graced by God with the privilege of bearing our Divine Savior. You experienced the joys and challenges of being a parent. Your life was blessed with seeing Jesus grow from infancy and childhood, into his adult years of teaching a ministry. With St. Joseph, you created a home for your family to love and share together. Please intercede before the God of all life, that those struggling with infertility may conceive a baby and raise healthy children, with whom they can share the Lord's good gifts. May their children honor them and You by lives of virtue and caring for others. May their home be holy and their family be blessed with health, happiness and abiding love. And for those for whom conceiving a child is not possible may their love for each other be fruitful. Help them not to become bitter when they encounter others who devalue life. May those who cannot give birth to a child see other ways in which they can give life to others. We ask this through Jesus Christ our Lord. Amen. (source: http://www.fertilityfriends.co.uk/forum/index.php?topic=261283.0)