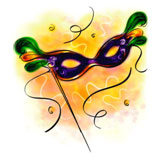 St Stephen Catholic School will be hosting their annual school fundraiser during the Mardi Gras parades.  Please patronize the school by purchasing food and drinks through the windows of the school facing Napoleon Avenue.  They will also offer bathroom passes for those wishing to avoid the Port-o-Lets.  They clean the bathrooms continuously throughout each day.  Please support our school that serves some of the neediest members of our community!
It's almost Lent! This season provides us as Catholics an opportunity to "repent and believe in the Gospel." One of the ways we can best do this is by going to Confession, where we have the opportunity to accept the many graces God has in store for us through this beautiful – and often underutilized – Sacrament. But Lent isn't the only time to make Reconciliation part of your schedule. Frequent Confession has so many benefits, including:
Confession helps us to better "know thyself." St. Augustine and countless other saints and doctors of the Church talk about the importance of knowing ourselves well. Through coming to know ourselves better, we realized how fallen we are, and how badly we need God's help and grace to get through life. Frequent Confession helps remind us to rely on God to help rid us of our sins.
Confession helps us to overcome sin and vice. The grace we receive from the Sacrament of Confession helps us combat our faults and failings and break our habits of vice much more easily and expediently than we could otherwise do without the sacramental grace.
Confession brings us peace. Guilt from the sins we commit can make us feel all mixed up inside and cause us to lose our peace and joy. When we hear God's forgiving words to us from the lips of the priest in Confession, a burden is lifted off our shoulders. Sins weigh us down and enslave us, often giving our passions power over us, instead of us having control over our passions. With the healing power of the Sacrament of Confession, we can again feel the peace of heart and soul that comes from being in a good relationship with God.
Confession helps us become more saintly, more like Jesus! Jesus was perfectly humble, perfectly generous, perfectly patient, perfectly loving – perfectly everything! Don't you wish you could be as humble, generous, patient, and loving as Jesus? Saints throughout history have felt that way too, and they have frequented the Sacrament of Confession to help transform them into people who are more like Christ. Little images of Christ – that's what saints are!
Confession strengthens our will. Every time we experience the Sacrament of Confession, God strengthens our will and our self-control to be able to resist the temptations that confront us in our lives. We become more resolute to follow God's will and not our own whims.
The words of absolution in the Confessional are beautiful: "I absolve you from your sins, in the name of the Father and of the Son and of the Holy Spirit." Jesus is waiting to forgive you – all you have to do is ask! Don't miss out any longer on the healing power of Confession…go to Confession this week, and invite someone else too, as part of this "Year of Mercy" called for by Pope Francis.
Also, consider sharing this article or our Good Confession.com site with someone in your life whom you believe would benefit from the graces of Sacramental Reconciliation!
The Respect Life Apostolate spreads the Gospel by giving witness to respect for life from conception to natural death by means of peaceful presence of prayer and/or vocal support for human life in situations that disregard human dignity. Among other activities, the Life Apostolate meets each Saturday at 11:00 am to pray the Rosary at the Women's "Health Care" Clinic (abortion clinic) on the corner of General Pershing and Magnolia. They also maintain a presence at the proposed Planned Parenthood site, and support Archdiocesan policy regarding the site.
Altar Servers play a very important role in the liturgy. They are part of the procession, handle incense, help prepare the altar for Mass, aid with baptisms, and help with the sacred vessels. Our parish has a great need for more servers as several of our most dedicated servers have left us for college.
Ushers greet parishioners as they enter the church, assisting those who need help finding a seat and providing information and directions for new visitors to the church.  Ushers are also responsible for taking up and securing the collection.
Special Events Committee committee needs YOU!  If you like to help with meal-based events, you'll have a great time!  Our busy season is February to June as the committee organizes the St. Joseph Altar (including Cookie Sunday) and the Corpus Christi post-procession lunch; and helps the Knights of Columbus with Lenten Fish Fry Dinners.
Extraordinary Ministers of Holy Communion (EMHC) experience the great diversity of the Church, the Body of Christ, when they serve our parish community by assisting the celebrant in sharing the Body and Blood of Our Lord.  They are purposely called extraordinary "ministers" because their service derives from the Eucharistic Ministry of the Priest, and they assist the Priest in distributing the Body and Blood of Christ.  This is done at Masses with large numbers of people, and also by bringing the Eucharist to those in the hospitals, nursing homes of our parish, as well as those who are homebound.
Adults 18 years and older who have received the three sacraments of initiation (Baptism, Holy Eucharist and Confirmation) may serve as Extraordinary Ministers of Holy Communion.
Society of St. Vincent de Paul –  The Society of St. Vincent de Paul offers volunteers meaningful opportunities to serve their neighbors in need with love and compassion.  Our chapter of is one of the most active in New Orleans. Regular activities include "Christmas in July", weekly distribution of lunch snack-packs, weekly distribution of shelter vouchers and information sessions on managing finances.  We strive to be more than a one time "emergency" help line and really make a change in our clients' lives.  Monthly meetings are held in the rectory.
Friends of St. Henry – The all-volunteer Friends of St. Henry was formed to maintain the dignity and spirit of the historic (1855) Church of St. Henry and serve the community. There are no dues or membership requirements.  The organization sponsors a weekly Rosary and an organizational update weekly (Saturday at 10:00am), the Annual Feast of St. Henry Reunion and Block Party in July and a night of Christmas Carols.  Service activities include Thanksgiving and Christmas baskets for needy families and the Christmas Angel Tree program which provides toys to underprivileged children.
Rectory Volunteers – We are always in need of help at the Rectory Office. Some volunteers handle specific record keeping tasks like updating sacramental registers that must be done on a regular basis.  Others help with our service ministries, and some are just willing to help with whatever needs doing!    The time commitment is up to you.
In preparation for the St. Joseph Altar on Thursday, March 19, we will begin collecting ingredients for the traditional Italian cookies and for the meal itself.  We would greatly appreciate donations of these ingredients on the following dates:
February 1 & 2               All purpose flour
February 8 & 9               Sugar (regular & powdered)
February 15 & 16           Crisco shortening (not butter)
February 22 & 23           Spaghetti
March 7 & 8                  Wine
March 14 & 15               Fresh vegetables & fruit
Because we know that some parishioners find it difficult to get to St. Stephen Church during the Mardi Gras parades, you are more than welcome to bring food donations on other than the assigned days. Thank you for your generosity, and we hope you can attend the St Joseph Day meal this year!
For more details, contact Hunter Harris at 417-6066.
The unfolding of your words gives light; it imparts understanding to the simple." (Psalm 119:130)
Notre Dame Seminary Bible Marathon 2020:
A Public Reading of The Bible for 100 Continuous Hours
Tuesday, January 28th at 12:30 PM- Saturday, February 1st at 6:00 PM
Front Lawn of Notre Dame Seminary
The Celebration of Candlemas will follow the Bible Marathon with Mass at 6:00 PM in the Chapel of the Immaculate Conception at NDS. Bible Marathon 2020 Sign Ups are NOW OPEN! Visit nds.edu to view available proclamation times.